Kilohertz
International counter-surveillance station array (work-in-progress)
Artistic research project for rural sites & experimental print publication project
Geopolitic land art intervention, June 2015-ongoing
Call for Participation in the global Kilohertz project.
Goal: Exploring military high-frequency radio communication system remainders in rural settings world-wide.
Attention: This project is under dispute with the author of another work (and a person I believed to be a friend) which served as a valuable intellectual backbone - a work which I deeply admire in both its conception and form. It saddens me to see that the author of said work is unwilling or uncapable to see the conceptual, aesthetical, technical and formal differences in both works that allow for them not only to exist as individual artworks at the same time, but for both to grow from their mutual existence. It also saddens me to see that the author of said work did not seek dialogue so far in order to solve this dispute, but started to exercise private diffamation instead.
10.08.2016 02:00 Brasilia Time
Consisting of an array of land art sculptures holding simple DIY copper wire-antennas, Kilohertz is an ongoing research project about the geopolitics of radio communication. Set in rural areas in Brazil and Estonia (so far), the Kilohertz ground stations are constantly surveilling radio frequency ranges reseved for military of the respective countries as well as of other big international powers, such as the NATO and the European Union. These ground stations, set-up in lowly populated areas and guarded with barbed wire fences, are, like their institutional counterparts, exclusion zones.
In Brazil, snapshots of the radio spectrum at 35-50MHz (former Brazilian governmental allocation), 50-80MHz (Brazilian and NATO military allocations), 138-160MHz (Brazilian police/military allocation) and 389-400MHz (Brazilian governmental allocation since 2014) are taken every day and are processed and uploaded to this website. The comparison between the different days is a first attempt to recognize the forms of "official communication" in the complexity of the electromagnetic spectrum. Analysis of these snapshots is part of the ongoing process of the project. Detailed reports will be published on an irregular basis.
Disclaimer: In most countries, it is illegal to tune into specific radio bands used for official governmental communication purposes (military, police, etc). As an example, in Germany it is illegal to receive or inform others about reception of signals that are not meant for the public or an unspecified receiver (§89 TKG Germany). It is also illegal to possess, build, distribute or import a transmission station or other radio station that is able to receive such signals (§148.1(1,2ab) TKG Germany).
The hardware used in the Kilohertz project is in no way limited to follow these governmental regulations. Obediance to the law has been applied where it was understood as absolutely necessary.
Kilohertz searches for radio usage (beacons, transmissions, conventional radar, over-the-horizon radar) in military frequency bands as a proof of potential or existence of military communication in the RF spectrum (in peacetime) in order to show how the spectrum is used as a political medium - a disputed territory in which different regulations of different countries overlap. Especially searching for empirical evidence of radio communication from foreign countries, found foreign military radio transmissions can effectively be understood as military actions within foreign souvereign territory, which brings up questions not only about governance of the radio spectrum not only in the relation state-individual/company, but also in inter-state relations (foreign policy). [Amazing work in this specific domain has been done by Erhan Oze in his 2011 project "Extraterritorial Electromagnetic Interventions", which I deeply admire and upon its theory this project is partially based.]
Over the course of the next months, more sculptures will be built and I will start to invite the public to deliver data from their own antenna structures around the world.
Detailed instructions on how to add your own self-made antenna to the array can be found in the PDF publication to be published in early September 2016.
Background
Excerpt of the "Request for Approval of the NATO Joint Civil/Military Frequency Agreement (NJFA) 2002", NATO Unclassified Action Sheet to PO(2002)167, December 2002: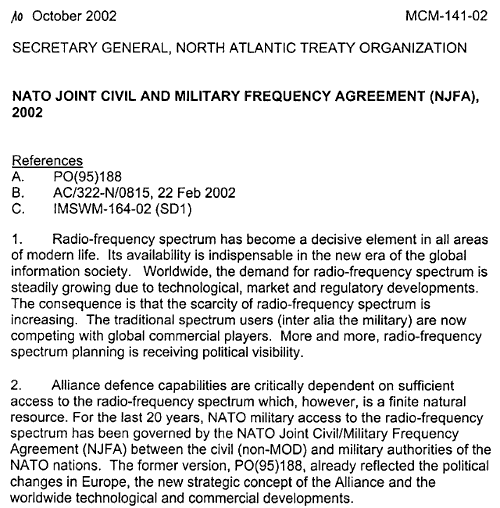 Timeline
May 2015: Built antenna sculpture in Estonia.
July 2016: Built antenna sculpture in Brazil.
July 2016: Published project introduction video.
August 2016: This website is published, including the project video.
Print publication to be published early September 2016.
Database of known military frequencies (BRAZIL & NATO, to be continued).
Antenna sites
Site 1
Located near Otepaa, Estonia (est. June 2015) at GPS 58.10038/26.55708 (DOWN) (project website at MAAJAAM.EE)
Antenna 1 // Type: Small Loop // Material: Copper 0.13sqmm cross section // Band: 90m // Azimuth: 144 degrees // Angle: 33 degrees
Antenna 2 // Type: Small Loop // Material: Copper 0.13sqmm cross section // Band: 60m // Azimuth: 255 degrees // Angle: 34 degrees
Antenna 3 // Type: Small Loop // Material: Copper 0.13sqmm cross section // Band: 60m // Azimuth: 33 degrees // Angle: 24 degrees
Antenna 4 // Type: Small Loop // Material: Copper 1sqmm cross section // Band: 8m // Azimuth: 328 degrees // Angle: 15 degrees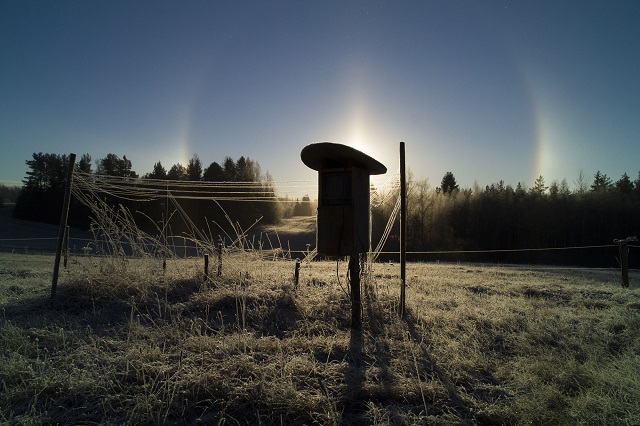 Estonian Kilohertz site. Photo courtesy of Timo Toots
Site 1 snapshots not available (site is currently DOWN).
Site 2
Located near Sao Jose do Barreiro, Brazil (est. July 2016) at GPS -22.64821/-44.66956 (UP) (project website at ruralscapes.net)
Antenna 1 // Type: Small Loop // Material: Copper 0.13sqmm cross section // Center frequency: 40MHz // Azimuth: N/A (Angle 90°)
Antenna 2 // Type: Inverted vee multiband // Material: Copper 0.13sqmm cross section // Center frequencies: 65MHz, 150MHz, 400MHz // Azimuth: approx 290°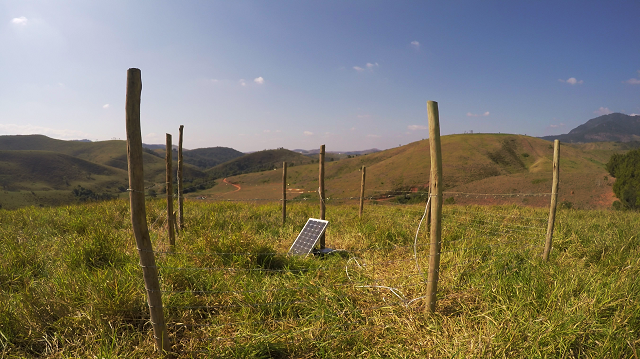 Brazilian Kilohertz site.
Site 2 (Brazil) daily snapshots (times are UTC)
Hardware used
Raspberry Pi + Wifi dongle
RTL820T2-powered USB dongle
USB extension cables
externally powered USB 4-hub
Solar cells + charge controller
Car battery
Wood
Copper wire (cross-section 0.13sqmm)
Barbed wire
RG6 coaxial cable
Custom circuits
Cable connectors
Perlon fiber
Plastic box

Brazilian Kilohertz site video documentation
Developed during MAAJAAM Residency Estonia 2015 and Rural.Scapes Residency Brazil 2016.


Supported by:


References and further readings (whole project)
EU frequency allocation plan
Brazilian frequency allocation plan (new)
Brazilian frequency allocation plan (old)
Resolucao ANATEL 665/2016
Resolucao ANATEL 633/2014
Resolucao ANATEL 625/2013
List of radio stations in Brazil (unofficial source) starting at 138250KHz
List of radio stations in Brazil (unofficial source) starting at 223940KHz
List of radio stations in Brazil (unofficial source) starting at 26870KHz
Estonian frequency allocation plans
"Request for Approval of the NATO Joint Civil/Military Frequency Agreement (NJFA) 2002", NATO Unclassified Action Sheet to PO(2002)167, December 2002
P. S. Ryan: Treating the Wireless Spectrum as a Natural Resource (13 ELR 10620)
SIGID wiki
MAAJAAM.EE: Martin Reiche - KHz
Rural.Scapes residency